Eymet is based in Aquitaine, SW France, in the Dordogne. Between Bergerac and its airport (25 km), Marmande (25 km) and Ste Foy-la-Grande (25 km). Not far from Bordeaux and its airport (100 km).
Here are some informations to help you. We send you an itinerary with the last roads to arrive easely when we confirm the receipt of the 30 % deposit.
Latitude Longitude


N 44° 39′ 35.9"
E 0° 21′ 25.1"
UTM / UPS
Map Datum WGS 84
31T 02 90 458
UTM 49 48 577
– By the motorway
A 10 to St André de Cubzac then D 936 and D 708 and D 19 to La Sauvetat du Dropt and Eymet.
A 62 to Marmande then D 933 to Eymet.
A 89 to Périgueux then N 21 and D 933 to Eymet.
– By train
The TGV stops to Libourne (50 km) or Bordeaux (100 km). Car rental possible or we can come to take you.
The nearest railway stations are Marmande (25 km), Bergerac (25 km) or Ste Foy-la-Grande (25 km).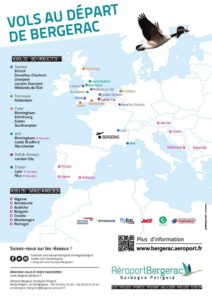 – By plane
Aéroport de Bergerac at 20 km. To go to: Paris, UK, Rotterdam et Bruxelles.
Aéroport de Bordeaux-Mérignac at 100 km.
Aéroport de Toulouse-Blagnac at 200 km.