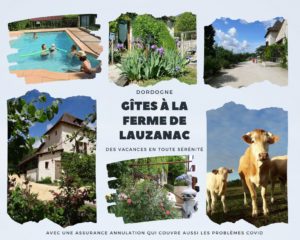 This post talks about the insurance offered in the event of COVID cancellation. If it's available from french insurance companies, it must also exist from the insurance companies in your country … Inquire and come visit us with peace of mind.
Allez, janvier est bien parti et nous avons tous pris de bonnes résolutions que nous allons nous appliquer à tenir !
Si les saisons précédentes nos calendriers de l'été étaient déjà bien garnis à cette période-ci, cette année, on sent que vous êtes frileux devant un avenir aussi incertain. Donc, dans l'objectif de vous rassurer, nous avons contacté l'assurance villégiature que nous recommandons depuis de nombreuses années afin de voir si des solutions étaient maintenant proposées en situation de COVID-19.
Situation de COVID, l'assurance prend en charge
Et bien oui, en partie. Le remboursement est effectif et prend en charge l'acompte ou la totalité du séjour en cas d'annulation si vous contractez le virus avant l'arrivée. Si la maladie se déclare durant votre séjour, vous serez remboursé pour les jours non consommés.
Confinement ou restriction de déplacement, pas de prise en charge, nous remboursons
Par contre, cette annulation n'est pas couverte en cas de confinement déclaré par le gouvernement ou de restriction de déplacement. Et dans ce cas, comme l'année dernière, nous proposons de reporter votre séjour ou nous remboursons l'acompte.
Pour avoir confirmation de cette information ainsi que des réponses aux questions que vous vous posez, rendez-vous sur le site Cabinet Albinet Courtier d'assurance annulation séjour.
Ensuite, n'oubliez pas que nous serons prêts à vous accueillir pour l'été et que les vacances à la campagne se prévoient maintenant 😉